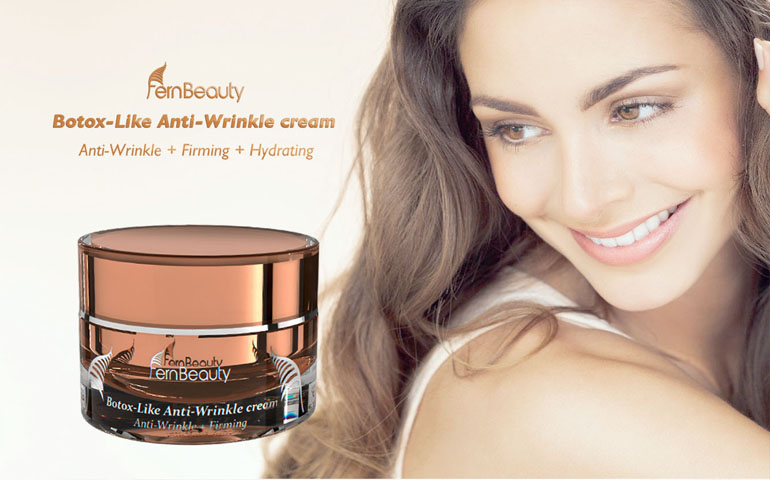 Fern Beauty Botox-like Anti-wrinkle Cream
| | | |
| --- | --- | --- |
| | Organic Olive Emulsifier | Traditional Emulsifier |
| Origin | Nature Olive Plant Extract | Chemical Synthesis |
| Environmental Friendly | Pollution Free | Environmental Loading |
| Safety | Safe / High Affinity | Low Affinity |
"The ultimate non-surgical "lift". Fern beauty Botox-like Anti-Wrinkle Cream instantly tightens and tones contours on face and neck — with lifting and firming benefits that are immediate and long-lasting.
Active Ingredients
Dipeptide Diaminobutyroyl
This innovation award "Swiss Technology Award" in 2006, which features work by imitating the polypeptide found in the venom of a snake. This will help to reduce muscle spasms and further reduce the incidence of premature aging.
Chondrus Crispus Extract
It is commonly called Irish moss or carrageen moss, a species of red algae which grows abundantly along the rocky parts of the Atlantic coast of Europe and North America. The principal constituent is a mucilaginous body, which is made of the polysaccharide carrageenan. It could repair the aging skin cell and increase the water resistance.
Bifida Ferment Lysate
Bifida Ferment Lysate is a lysate of the product obtained by the fermentation of Bifida. It could repair the skin cell from damage and resistant to signs of damage, stress and aging.
This is developed and synthesis with high biotechnology in Switzerland. It contains protein and polysaccharide, which increase the skin moisture and also reduce wrinkles and fine lines.
Co-Enzyme Q10 (Ubiquinone)
This oil-soluble, vitamin-like substance is present primarily in the mitochondria. It is a component of the electron transport chain and participates in aerobic cellular respiration, generating energy in the form of ATP. It could increase skin cell metabolism and reduce skin from aging.
Best way to achieve results